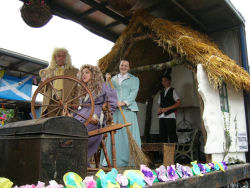 On 16th June, we entered a decorated float in the 'Guid Nychburris' (Good Neighbours) gala parade in Dumfries.
This was a shared entry with the Torthorwald 'Scarecrow Day' which is held in July each year.
We constructed a mini Cruck Cottage on the float and the participants were dressed up in period costume.
It was great fun, and we were rewarded with a prize for the best Community entry.