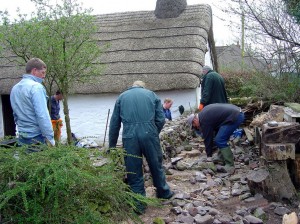 A cottage like this would be repaired and rebuilt many times in its life. It was permanently occupied until the mid 1950's. In 1960, the cottage was empty, and was taken over by a trust, formed by a number of local people. Repairs and re-thatching were carried out, and in 1966 the local council agreed that the cottage be dismantled, and rebuilt in the grounds of Dumfries Museum. Thankfully this did not take place! In 1970, the cottage was designated an 'A' listed building, which secured its future. By  1972, the cottage was again in a poor state of repair, and was derelict. Restoration by the local Greiner family saved the building, and it became a home again.
By 1990, the cottage was again empty and derelict, and was gifted to Solway Heritage by the then owner, Mr Ian Mills along with a donation of £1,000. Solway Heritage prepared a scheme of repairs, and supervised the restoration in consultation with Historic Scotland.
The majority of the work was undertaken by master thatcher Jeremy Cox of Corsock, ably assisted by his wife, Jools, with the large crucks and other main timbers being repaired by craftsman Mike Todd.
Careful attention was given to good conservation practice and the use of authentic materials and workmanship using traditional tools. The crucks were first dismantled and numbered, so that they could be reconstructed and replaced in their original position. It was only when the backs and bases of the crucks were first revealed, that the full extent of the repairs was discovered.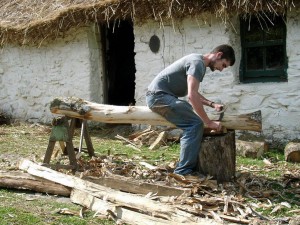 Tree trunks and branches were chosen to match the shape of the existing crucks. The new wood was carefully spliced into the old to make a strong repair. Walls were re-pointed and wall tops re-bedded in traditional mortar. The hanging lum was re-constructed using a timber frame plastered in mud, cow dung and lime daub. Finally the roof was re-thatched using wheat straw over heather turf.
Outside. Roger Lewis, the drystane dyker from Twynholm, Kirkcudbright, constructed the dyke and laid the cobbled driveway. Notice also the wooden gate – constructed without nails!
Minor repairs were carried out in 1998 and in 2004 the roof of the cottage was again repaired and re-thatched by Jeremy Cox.  Repairs were undertaken again in 2012. Funds were secured in 2017 for a complete re-thatch of the cottage, and this was carried out by Master Thatcher Jonathan Botterell from York.
The members of Cruck Cottage Heritage now take responsibility for the day to day upkeep of the cottage, and carry out minor repairs, limewashing, etc, using traditional materials. It is essential to maintain the cottage in its present condition, and ensure that it never again falls into disrepair.